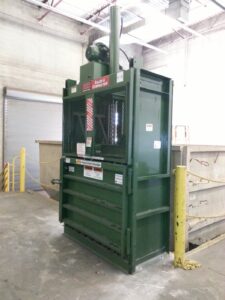 Trash and waste affect nearly any business's daily operations. Removing waste safely and efficiently is a crucial part of keeping many businesses up and running. The industrial baling, compacting, and recycling equipment Goodall's Industrial provides to clients around the Phoenix, AZ area is designed to keep businesses running smoothly.
Every business, large or small, has different waste management needs. Whether your business is a construction organization with large debris or a hotel with a need for regular waste management systems, the equipment Goodall's Industrial provides can keep your business running smoothly. The products their customers use can vary as much as the businesses themselves. Some organizations require industrial grade balers, compactors, or recycling equipment, while others only need a system for plastic recycling.
The experienced Goodall's Industrial experts can work with you to identify which baler, compactor, or recycling pieces of equipment will best meet your business's recycling needs in the Phoenix, AZ area.
Bramidan Products